In the world of financial services, navigating a debt relief company can be like walking through a minefield. Alliance One Funding is one of the companies you may encounter along your financial journey. But how do you determine if this company is a legitimate debt relief company or simply another scam?
Alliance One Funding Summary

As a lender, Alliance One Funding specializes in assisting individuals with obtaining debt relief through personal loans. They claim to offer very low interest rates, a simple application process, and custom-tailored consolidation plans. The website provides testimonials, loan examples, and a range of APRs based on credit rating. Users can schedule free consultations and receive special offers.
We discovered some interesting facts about their website and terms and conditions during our investigation. Let's begin with the fine print:
In addition to not lending money or engaging in lending activities, the company is not a bank or financial institution. Customers' loan amounts, terms, and APR may vary depending on credit, state law, and loan minimums. Lenders may not approve credit if, after applying, they find that you no longer meet the requirements. Annual Percentage Rates (APR) range from 2.92% to 24.99%.
Alliance One Funding Debt Consolidation Mailer
Did you receive a direct mail from Alliance One Funding pre-approving you at 2.92 percent interest?
Did it come with a check for more than $100,000?
Were you able to save more than $2,700 per month with it?
Is your reservation code personalized?
Have you noticed that your credit rating has declined?
Is it too good to be true?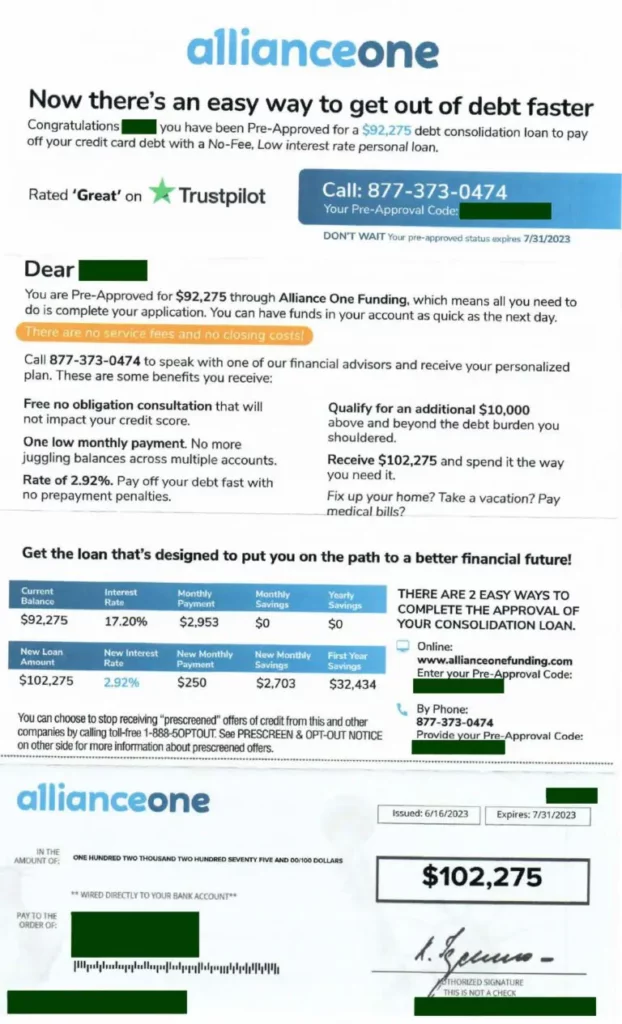 Is Alliance One Funding Legit or a Scam?
Online reviews of the company are mixed, with some customers expressing satisfaction with their services and others complaining. The presence of negative reviews does not necessarily mean a scam, but potential clients should exercise caution. Before making any decisions, always check the accreditation of the company, read its terms and conditions, and seek independent financial advice.
Alliance One Funding Reviews
BBB Reviews
Alliance One Funding does not have a BBB file, which is not positive.
Trustpilot Reviews
Alliance One Funding, a loan agency, has 12 customer reviews on Trustpilot, with an average rating of 3.5 stars. Some reviews express doubt about the authenticity of the positive reviews, noting similarities in writing style and the lack of previous reviews from the accounts. There were problems with communication, discrepancies in credit reports, and negative consequences for one reviewer. The two most recent reviews from Alliance One Funding highlight the professionalism, cooperation, and helpfulness of the company in providing loans and debt relief services.
What is Alliance One Funding?
The Alliance One Funding company claims to offer personal and business debt relief solutions. They provide a range of services, such as credit card debt consolidation programs, personal loans for debt consolidation, financial consultation services, and a smooth enrollment process that leads to a finalized payment plan.
Their main goal is to help clients achieve financial freedom, reduce their debt, and improve their credit, according to their finance managers. In addition, Alliance One Funding claims to have a team of professional debt experts who assess the financial situation of their clients and create a customized plan that addresses their specific needs.
How does Alliance One Funding work?
The Alliance One Funding website states that it provides financial solutions to people with high-interest unsecured debt. A professional evaluates the client's financial situation and discusses suitable options during a free consultation. These solutions usually involve debt consolidation or debt settlement programs.
In the event the client decides to take advantage of Alliance One Funding's debt relief program, we negotiate with creditors on their behalf, reducing the total amount owed or consolidating multiple debts into a single monthly payment that is more manageable. In addition to relieving financial strain, these programs may also have an impact on the client's credit rating.
FAQs
How long does Alliance One Funding take to approve?
Creditworthiness and state law will determine the terms and conditions of a loan. Approval for a loan can take longer depending on how many additional documents are requested.
How much does Alliance One Funding charge?
Alliance One Funding doesn't explicitly mention how it makes money. There are no fees mentioned anywhere on the site. It's probably through referral fees, but that's not explicitly stated.
How does Alliance One Funding affect your credit?
For many people seeking loans, low credit scores are a major source of stress. However, it is important to know that simply consulting with a lender will not impact your credit rating. In order for your score to be lowered, you need to take out the loan and have the lender check your credit history as part of the application process.
See If You Qualify for Credit Card Relief
See how much you can save every month — plus get an estimate of time savings and total savings — with your very own personalized plan.
How do I cancel my Alliance One Funding?
Be aware that once you have deposited the funds, you cannot cancel or reverse the loan. Be sure you really need the loan and are comfortable with the terms and conditions before accepting it.