LoansUnder36 is a website that does not offer or solicit loans. Instead, it connects users with lenders in order to provide credit. The website does not make loans of any type, nor does it endorse or charge for any loan products. The operators are not lenders and do not make credit decisions. It advertises its services on loansunder36.com.
LoansUnder36 Summary
It is possible to consolidate debt, finance a large purchase, or cover unexpected expenses with personal loans. With so many lenders available, it is difficult to know where to turn. One option in particular that has recently received a great deal of attention is Loansunder36. However, is this matching service the best choice for you? In order for you to make an informed decision, let us take a closer look at what they have to offer.
The following are some of the standout aspects of their website and terms and conditions that were uncovered during our research.
As a non-lender, Loansunder36.com makes no offers or solicitations to lend.
The purpose of this website is to connect borrowers with lenders and does not endorse or charge for any loan products.
It is the website's policy to collect personal information provided by you and to pass it on to their lender partners.
The interest rate on a personal loan typically ranges from 5% to 36%.
The company offers a fixed-rate personal loan that begins at 4.99% APR.
With LoansUnder36, you can obtain a loan with a term of up to 72 months.
It is possible to obtain a loan amount between $500 and $35,000, although not all lenders are able to provide up to $35,000 in loans.
This information will be used to determine whether you qualify for a loan or credit product. It is not a guarantee that you will be approved.
There are some states in which their service and lenders are not available.
What Is LoansUnder36?
Unlike online lenders, Loansunder36 provides a free loan matching service that connects you with lenders in their network. They were founded in 2014 and are based in Boca Raton, Florida. Their service is available in 44 states.
In addition to not being affiliated with the Better Business Bureau, Loansunder36 is not accredited. They do have a Trustpilot account, however, which has only 2.7 stars, which is indicative of poor service based on what past customers have to say.
How Does LoansUnder36 Work?
It is essential that you fill out their online application correctly so that your funds will be sent to you and not to someone else. Once your identity is verified, a lender will send you money immediately.
Your information will be sent to lenders and/or third-party partners when you submit your request. To evaluate your creditworthiness, these lenders may obtain consumer reports and other related information from one or more consumer reporting agencies.
The lender's disclosures and lending practices must be carefully read before you sign anything. Each lender has different policies, so you must be informed of these before signing anything.
How To Qualify For LoansUnder36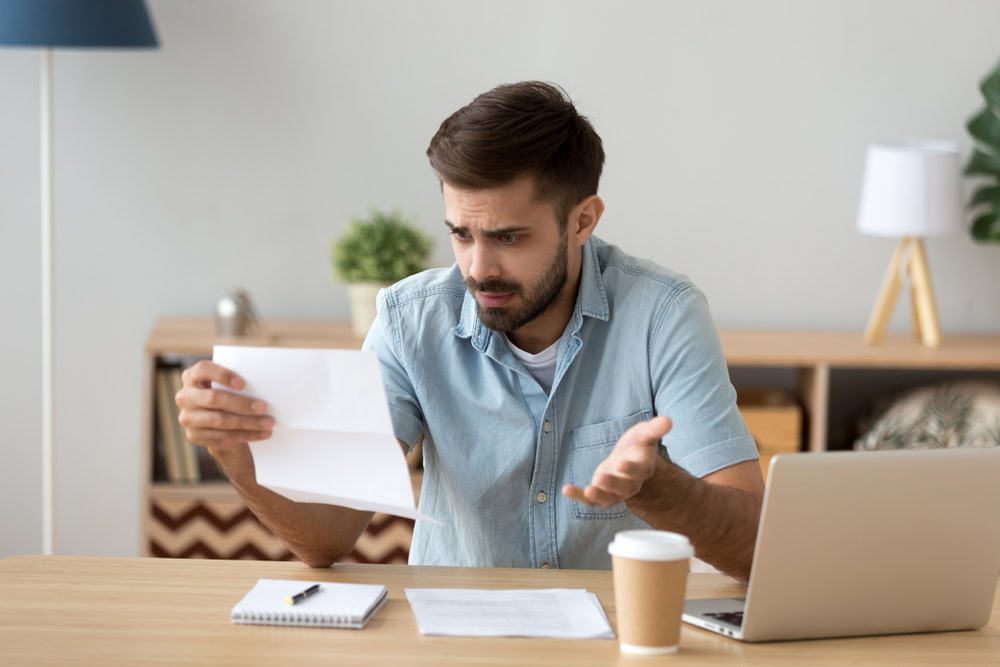 You must meet the following requirements in order to qualify for a loan from loanunder36:
You must be at least 18 years old.
You have to be a U.S. citizen.
Have a regular income or be employed.
It's a plus if you have a bank account with direct deposit.
LoansUnder36 BBB Reviews
Although Loansunder36 is not affiliated with the Better Business Bureau, they are listed on Trustpilot, where they have an average rating of 2.7 out of 5 stars.
Some reviews can be found here:
Eric Kellam Dec 14, 2021
They got my personal info my identity was stolen I tried calling they hang up every time!….
Larry Corvino Aug 20, 2020
See If You Qualify for Credit Card Relief
See how much you can save every month — plus get an estimate of time savings and total savings — with your very own personalized plan.
DO NOT DO IT
My Honest feedback is to find somewhere else.
Beatrice Morgan Nov 12, 2020
Bad bad scammers.
LoansUnder36 FAQs

How Much Does LoansUnder36 Charge?
Loansunder36 offers APRs ranging from 5.99% to 35.99%. Other factors, such as origination fees and missed payment penalties, vary by lender.
Depending on your lender, there may also be additional fees associated with the loan, such as application and check processing fees. Be sure to ask about all potential charges before taking out a loan.
Are There Any Prepayment Penalties?
Using LoanUnder36, you can find and compare loans from lenders for free. However, this does not imply that you will be charged no interest or fees by the lender. Prior to signing your loan agreement, it is important that you carefully review the terms and conditions so that you are aware of your responsibilities.
How Does LoansUnder36 Affect Your Credit?
When applying for a loan, it is important to understand how the loan process can affect your credit score.
In most cases, lenders will run a soft credit check upfront in order to determine the interest rate and loan terms you may qualify for. This will not affect your credit score in any way.
Nevertheless, if you decide to proceed with the loan application, the lender will need to conduct a hard credit inquiry to glean a comprehensive view of your credit history, which may result in a reduction of your credit score.
How To Cancel LoansUnder36
In order to avoid any cancellations or changes down the road, make sure you are confident in your decision before applying for a personal loan. Once the funds have been transferred to your account, you cannot reverse or cancel the transaction.
Here are some tips to help you manage your money better.
If you're in debt, it can feel like a millstone around your neck. Here's how to get your finances back on track.
Make better spending decisions by cutting up your credit cards and living within your means.
A financial advisor can help you understand your options and develop a plan that works for you.
Last but not least, don't worry about debt that has already accrued. Many companies will work with you to make a more manageable payment plan.
Is LoansUnder36 Legit Or A Scam?
It is not uncommon for many websites to provide loans, but not all of them are reliable. Loansunder36 is one such site that you should be cautious about. Though they claim to be a lender-borrower connection service, they have poor reviews on Trustpilot with only a rating of 2.7 stars. Furthermore, they are not affiliated with the Better Business Bureau.
You need to consider a number of factors before you take out a loan, including the type of loan, the interest rate, and the repayment plan. You should do your research and compare rates from different lenders to find the best option for you. You should also read customer reviews to ensure that you do not take out a loan that you cannot afford.
Have you used loansunder36.com? Tell us about your experience!
Thanks for reading!
LoansUnder36 Review
LoansUnder36 Summary
It is not uncommon for many websites to provide loans, but not all of them are reliable. Loansunder36 is one such site that you should be cautious about. Though they claim to be a lender-borrower connection service, they have poor reviews on Trustpilot with only a rating of 2.7 stars. Furthermore, they are not affiliated with the Better Business Bureau.