Debt can be a difficult thing to manage on your own. You may be considering debt consolidation as an option to help you get out of debt more quickly and easily. Simple Path Financial is one such company that promises to help you with debt consolidation. But is Simple Path Financial legit? Is their affiliate SPF Saves legit? In this article, we will take a look at the pros and cons of Simple Path Financial to help you determine whether or not their services are right for you
At Simple Path Financial, they understand the challenges associated with debt consolidation. That's why they offer a variety of loan referral services to help you get on the path to financial stability. Their team will work with you to create a personalized debt consolidation program that fits your unique needs and budget.
When you consult with one of their experts, you'll be able to get an idea of your options and what would work best for you. Their biggest advantage is that they offer this consultation for free.
There are some clear disadvantages to using the services of Simple Path Financial. Their fees can be quite high, which puts them out of reach for many people. Additionally, their credit score requirements may exclude some people from being able to use their services. Finally, they have numerous negative reviews online, with customers complaining about a range of issues.
Is Simple Path Financial a scam or legit? It's hard to say for sure. There are some definite drawbacks to using their services, but overall they seem like a legitimate company. Do your research before making a decision either way.

Simple Path Financial Pros and Cons
Before you apply for a loan, it's important to understand how they work and the potential risks involved. Taking out a loan can help you consolidate debt, but it can also come with high-interest rates and fees. Without careful planning, you could end up in more debt than you started with.
Pros:
Debt consolidation loans and personal loans can help you pay off your debts faster.
BBB rating is A+
Cons:
High-interest rates and fees on personal loans
Bait and switch schemes accusations
A lot of complaints
Poor customer service
Before taking out a loan, be sure to consider all the pros and cons carefully. On one hand, you could become debt-free quicker. On the other hand, you could end up owing more money than you started with, and that is not a desirable position to be in.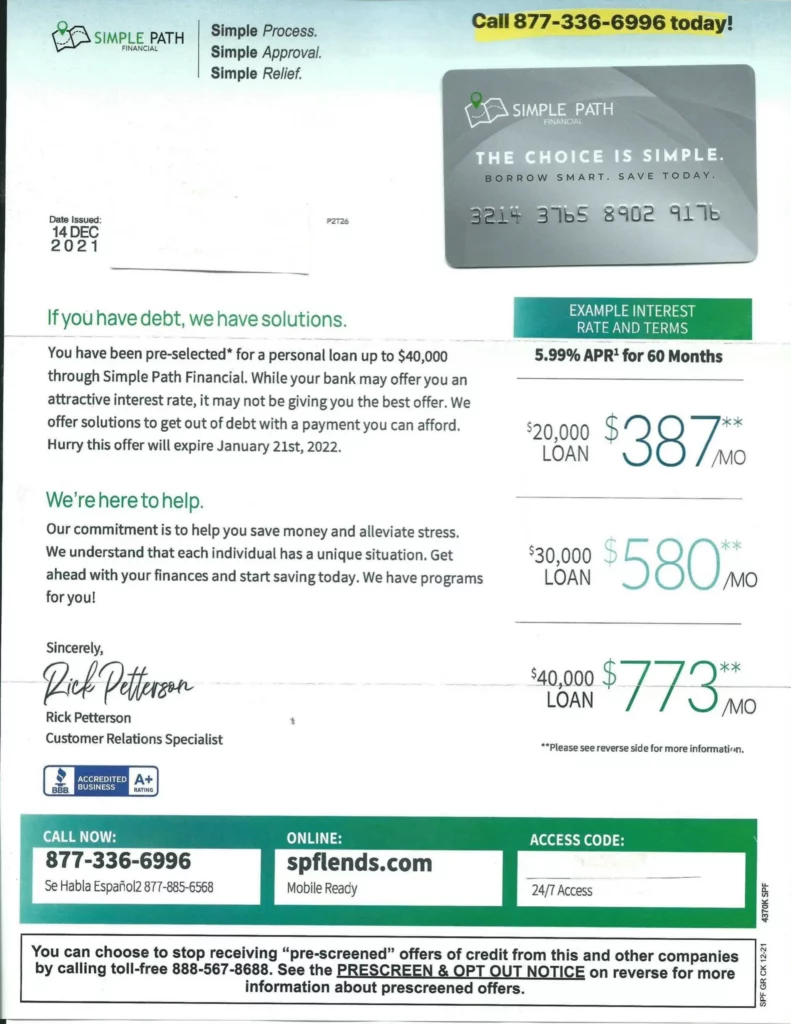 What is Simple Path Financial?
Simple Path Financial is a debt consolidation company that offers personal loans at low-interest rates through mail offers. Debt consolidation can be a great way to reduce your monthly payments and get out of debt faster. But beware of companies that use bait-and-switch schemes to lure you in. Once you're in their trap, you'll be stuck with high-interest rates and fees.
Debt consolidation companies often use direct mail to advertise their services, promising low-interest rates, and great terms. However, the rates and terms you actually get may be different from what was advertised. By the time you realize this, it may be too late to get out of the trap.
How does Simple Path Financial work?
Simple Path Financial advertises debt consolidation loans that promise low monthly payments and quick debt payoff, but beware: high-interest rates and fees may worsen your situation. In many cases, people who consolidate their debt with this lender end up paying more interest and fees than they would have if they had just stuck with their original lenders.
There are many companies that offer loans, and each has different terms and conditions. It's important to read the fine print and understand the potential downside of taking out a loan before you make a decision.
Debt relief can be a great way to get out of financial trouble, but you need to be careful about choosing the right company. Make sure you find one with fair interest rates and monthly payments, so you can start getting ahead financially.
What is a debt consolidation loan?
Debt consolidation loans are becoming increasingly popular as people look for ways to get out of debt faster. By consolidating multiple debts into one loan with one monthly payment, debtors can save money on interest and become debt-free more quickly.
There are a few things to consider before you decide to consolidate your debt with a loan. It's important to compare multiple lender offers to get the best deal possible. It would help if you also thought about whether or not a loan is a right solution for your specific financial situation. For instance, consolidating your debt with a loan might not be the best idea if you have a lot of high-interest debt.
See If You Qualify for Credit Card Relief
See how much you can save every month — plus get an estimate of time savings and total savings — with your very own personalized plan.
There are a lot of different types of loans out there, and it can be tough to figure out which one is right for you. But don't worry – a certified credit counselor can help.
What are personal loans?
Personal loans are unsecured, which means there is no collateral. This can make personal loans riskier for lenders, but it also makes them easier to qualify for than some other types of loans.
Personal loans can be used to consolidate debt, pay for unexpected expenses, or finance large
purchases.
How to qualify for a Simple Path Financial personal loan?
Debt can be a difficult thing to manage on your own. Fortunately, there are debt consolidation programs available that can help make things simpler. With a personal loan, you'll have just one monthly payment to make instead of multiple payments. This can be a helpful solution for getting out of debt more quickly.
In order for your debt consolidation loan application to be successful, you will need to meet these
qualifications:
Your outstanding debts must total at least $15,000.
A FICO score of 640 or higher is required to qualify.
Applicants must have a consistent source of income and employment history. Self-employed applicants may need to provide additional documentation to prove their eligibility.
You must be a U.S. citizen.
Applying for a personal loan online is a quick and easy process. Simply fill out their online form and provide some basic information about yourself. Once you're approved, you'll be able to choose how much debt you want to consolidate and what kind of repayment schedule works best for you.
What kind of program does Simple Path Financial offer?
Loans from this company are not very competitive, starting at just over 11%. However, you can choose the loan term that best meets your needs, from two years to seven years. Their loans may be subject to origination fees ranging from 1% – to 5%, of the loan amount and prepayment penalties may apply.
Simple Path Financial may not have the best rates and terms, so it's important to shop around before deciding on a loan. Checking your rate online won't affect your credit score, so there's no harm in seeing what other options are available.
How much does Simple Path Financial charge?
When you're taking out a personal loan, it's important to be aware of any potential fees that may be associated with the loan. These can include origination fees (which are typically 1-5% of the loan amount), as well as other hidden fees that may not be immediately apparent.
APR rates will also fluctuate depending on your creditworthiness. The lowest possible rate is 5.99%, while the highest is 36%. Be sure to read all the loan details and understand the fees associated with the loan before signing any papers.
What is the minimum credit score to work with Simple Path Financial?
Debt consolidation loans are a great way to save money on interest and pay off your debt faster. However, you will need a minimum credit score of 640 to qualify for one. But don't worry, even if your credit score is below 640, you may still be able to get a loan by finding a cosigner.
A personal loan can be a great way to consolidate debt, finance a large purchase, or cover unexpected expenses. But before you apply for a loan, it's important to understand how they work and what your options are.
How does Simple Path Financial affect your credit?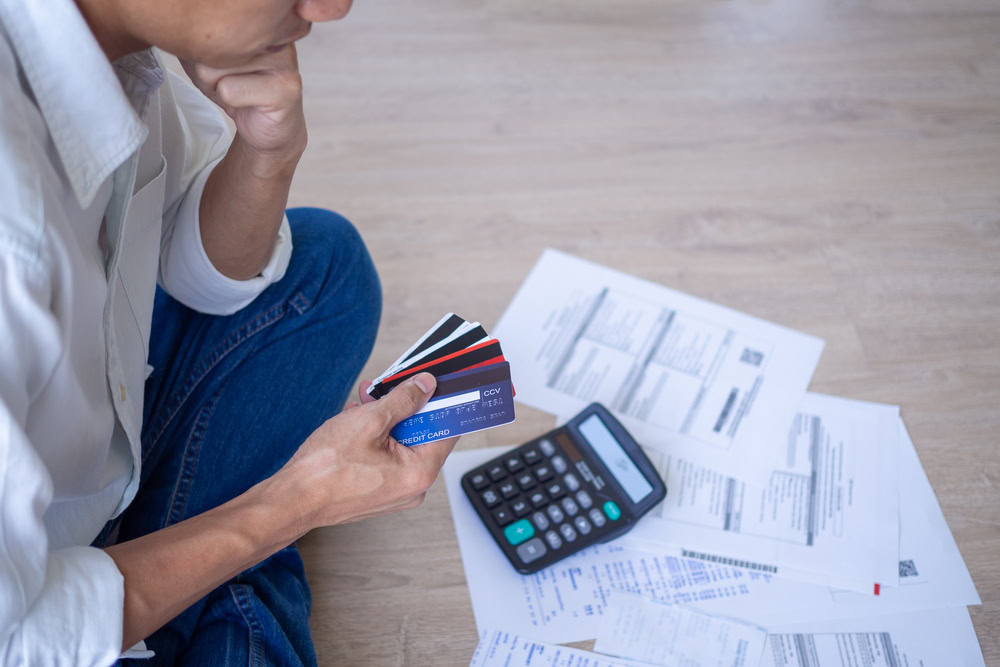 Different lenders can affect your credit in different ways. For example, some may do a hard credit inquiry on your credit report to see whether or not you're eligible for a loan. This can lower your credit score, so it's best to avoid hard inquiries from lenders before applying for a loan.
Your credit score can be impacted negatively in many ways, one of which is through late payments. Even being just a day or two late on any of your payments can show up on your credit report and lower your score. So it's crucial to always make your payments on time.
Nonetheless, debt consolidation can be a great way to improve your credit score. By consolidating your debt, you can make one monthly payment instead of several, which can help you stay on top of your finances. Just be sure to avoid hard inquiries and late payments, which can damage your credit score.
How to cancel your Simple Path Financial loan?
If you're no longer interested in working with Simple Path Financial, you can't just cancel the loan. Once the money is disbursed into your account, there is no way back. You need to repay the outstanding balance on your loan and notify them that you'd like to cancel.
Don't hesitate to reach out to their customer service department with any questions you have about canceling your loan. They should be able to help you out.
Who is Simple Path Financial affiliated with?
National Debt Relief is affiliated with Simple Path Financial and offers a way to consolidate your debt into one monthly payment. This can help you pay off credit card debt, student loans, medical bills, and business debts.
Simple Path Financial BBB Reviews
When considering a lender, it's important to look at their rating and reviews. According to BBB's website, they have an A+ rating and have been accredited since 2017. They have had 12 complaints closed in three years and two in the last twelve months. With this information in mind, you can better decide if this company is right for your needs.
It's always a good idea to check the Better Business Bureau (BBB) rating of any financial company you're considering doing business with. This will give you some insight into how the company treats its customers and handles complaints. A high rating from the BBB is a good sign that the company is reputable and can be trusted.
Here are some of their BBB Reviews:
Kenneth K 04/21/2022
I applied online and was automatically refused due to my credit. Now they won't stop calling me, saying they can help? How can you help when you already denied me? Seems like high-pressure tactics to me.
Phyllis s 04/15/2022
Total scam. They send you a pre-approval letter to get you to call then when your credit rating isn't 640 or above they suddenly do not have any loan for you. Very deceiving
Debbie W 02/17/2022
Working with this company has been a nightmare. Said we could be out of debt only to be close to having wages attached, court appearances with no representation. If this review just helps one innocent person I will be happy.
Complaint Type: Billing/Collection Issues 04/25/2022
I applied for a personal loan and was denied that is okay what is not okay is he said he's said my credit score is 577 which my credit score is ******* and 591. I have an account with experience that's where he said he got it from my credit score hasn't been **** April they are using fake credit scores to deny and it's just a trick they use to make you sign up for debt consumption.
Is Simple Path Financial legit or a scam?
When it comes to this company, it's hard to know what to believe. Are the negative reviews an accurate reflection of their business? Or are they just a few unhappy customers? It can be tough to decide.
After doing some research on SImple Path Financial, here are some of the interesting facts we found:
Beware of lenders who use bait-and-switch tactics. They may promise low-interest rates to lure you in, but then switch you to a higher rate once you've signed up. Be sure to read the fine print and understand all the terms and conditions before agreeing to any loan.
It's extremely frustrating when your bank account is suddenly closed without any warning or explanation. This is a huge red flag that the lender may not be legitimate. Unfortunately, many people have experienced this issue.
Before using any type of online service, be sure to do your research. There are a lot of great options available, and you don't want to get scammed. Read reviews from other users to get an idea of what to expect.
Have you used simplepathfinancial.com in the past? Feel free to share your experience in the comments below. We're sure some potential customers would appreciate the feedback.
Thank you for reading!