United Debt Counselors

DEBT CONSOLIDATION REVIEW
click for best 2023 reviews
United Debt Counselors and United Debt Counselors com are part of the new wave of debt consolidation companies that are targeting American consumers. Generally, they engage consumers through direct mail, cold calling and internet ads.
2.0 out of 5.0 stars2.0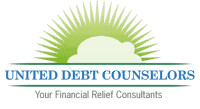 2.0 out of 5.0 stars2.0
How Much Can Settling Your Debt Save You Every Month?
Click and Find Out
United Debt Counselors
United Debt Counselors Review
United Debt Counselors - Consumer Warning
CONSUMER WARNING 2.0 out of 5.0 stars2.0 United Debt Counselors, aka UDC aka United Debt Reduction, is a Plano, Texas-based debt settlement company providing debt relief services in 19 states. They are known for soliciting consumers through direct mail with low-interest debt consolidation loan offers. The company has recently received a number of complaints online that have accused the company of repeatedly "harassing" consumers by ending unwanted "pink letters" that contain incorrect financial information.
Comments Rating
( reviews)